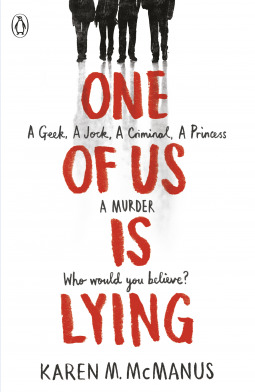 Title: One Of Us Is Lying
Author: Karen M. McManus
Genre: Young Adult, Mystery, Contemporary
Format: Paperback
Rating: 3.5/5
Synopsis: Goodreads
Review: I spent a lot of time picking this book up and then walking away from it for a good few weeks before finally deciding to take the leap and purchase it and I'm so glad I did!
Five students in detention however, only four leave alive. After the death of the school gossip, Simon, the four students that were in the room with him soon become suspects in the investigation into his death, turning all their lives upside down as secrets about their past start to come out during the questioning. Would Bronwyn, Cooper, Addy and Nate really go as far as to kill someone just to keep their secrets, well, secret?
'One Of Us Is Lying' is basically a modern day "The Breakfast Club" but there's a death during detention which makes it that bit different. Each of the characters are similar to the characters in "The Breakfast  Club" but at the same time have their own uniqueness at as well. Nate and Bronwyn were my favourite characters in the book and personally I found them to be two of the strongest characters as well and couldn't wait to read each of their parts. The rest of the characters I found to be pretty bland except Cooper who I was surprised about with his twist but at the same time also not surprised (if that makes sense???)
I disliked how much this book dragged on and the fact there were so many irrelevant characters that I just couldn't connect with and felt like they added nothing to the story at all and because so many characters were being introduced and then brought up again every so often I found myself occasionally getting confused. Although I've said the book does drag a little, I must admit that there is plenty of things happening that makes it hard to put this book down. I really want McManus to do a book just purely about Bronwyn and Nate because they were two characters I adored and I loved Bronwyn's sister as well as Nate's Bearded Dragon, Stan. I loved how strong minded Bronwyn was and how she dealt with being investigated for a murder, she literally never let anything get her down and she tried to fix everything for everyone without actually harming anyone.
This book was exactly what I was expecting in almost every way, although I definitely didn't see the twist in the book coming at all and the last 100 pages or so were a wild ride which I loved! If you're looking for a new contemporary, murder mystery then I do highly recommend you check this book out!
If you've read this book already, then I'd love to hear what you thought of it so let me know in the comments!!