Hey everyone! How are you all? I hope you're all doing good and have had a good week. Today I'm back with a little something different. I have quite a few books I want to review so I thought I would do a post with some mini reviews on some of the books I've read this month and then for another couple do a full review for them. So, without further ado…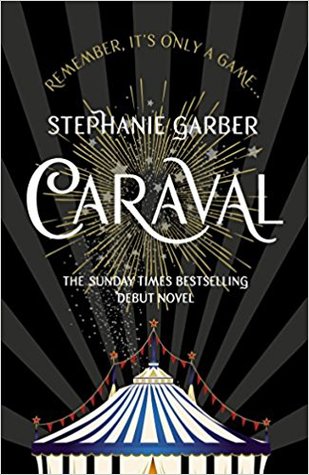 Caraval by Stephanie Garber
Rating: ⭐ ⭐ ⭐ ⭐
Summary: Scarlett has never left the tiny isle of Trisda, pining from afar for the wonder of Caraval, a once-a-year week-long performance where the audience participates in the show. Caraval is Magic. Mystery. Adventure. And for Scarlett and her beloved sister Tella it represents freedom and an escape from their ruthless, abusive father. When the sisters' long-awaited invitations to Caraval finally arrive, it seems their dreams have come true. But no sooner have they arrived than Tella vanishes, kidnapped by the show's mastermind organiser, Legend. Scarlett has been told that everything that happens during Caraval is only an elaborate performance. But nonetheless she quickly becomes enmeshed in a dangerous game of love, magic and heartbreak. And real or not, she must find Tella before the game is over, and her sister disappears forever.
My Thoughts: I honestly really enjoyed this book. I liked Garber's writing style but didn't think it was very character driven. For the most part it was very plot driven which I did actually enjoy and it helped me get into the world and ready myself for the second book (Legendary). Character wise, I have a mixed reaction to Scarlett. Sometimes I loved her, most of the time I just found her to be really annoying and unbearable and I just wished for Julian to take over as the main character. With this, I think it's fair to say Julian was my favourite character because there was just so much mystery surrounding him and I never knew if he was good or belonged on the villain's side which kept me guessing throughout the story. Although I've given it four stars I actually rated it 3.5 just because there wasn't enough for me to push it to a 4. The mystery and intrigue in this novel really did make it hard for me to put down and I found myself grabbing the book at any opportunity to squeeze some reading in just so I could see where we were going to be taken next. If you enjoy magic, mystery and dark/twisted worlds then I highly recommend this to you!
Picture Of Innocence by T.J. Stimson
Rating: ⭐ ⭐ ⭐ ⭐
Summary: My name is Lydia. I'm 12 years old. I'm not an evil person, but I did something bad.  My name is Maddie. I'd never hurt my son. But can I be sure if I don't remember?  
With three children under ten, Maddie is struggling. On the outside, she's a happy young mother, running a charity as well as a household. But inside, she's exhausted. She knows she's lucky to have to have a support network around her. Not just her loving husband, but her family and friends too.But is Maddie putting her trust in the right people? Because when tragedy strikes, she is certain someone has hurt her child – and everyone is a suspect, including Maddie herself.
My Thoughts:  THIS BOOK!!! SO MANY TWISTS AND TURNS I DID NOT SEE COMING! This book was literally impossible to put down. I was reading it on the Kindle app on my phone and I was literally reading it at every single moment I could (I even had some sneaky glances whilst at work because I just couldn't leave it alone). T.J Stimson honestly had me guessing the whole way through the book and I just as I thought I had an idea of who the culprit was, something would happen that would make me question absolutely everything. Maddie was definitely my favourite character, my heart just went out to her because she was going through so much all at once yet had no one that she could trust to even speak with and seeing everything get on top of her had my heart breaking on her behalf. Every other character had me suspicious and I just didn't know who to believe. I really couldn't recommend this book enough, especially if you're a fan of psychological thrillers!
*I received an eBook copy of this book from Netgalley and Avon Books UK in exchange of an honest review so I'd just like to take this time to thank them for that*
The Burning by Laura Bates
Rating: ⭐ ⭐ ⭐ ⭐ ⭐
Summary: There's nothing to trace Anna back to her old life. Nothing to link her to the 'incident'.
At least that's what she thinks … until the whispers start up again. As time begins to run out on her secrets, Anna finds herself irresistibly drawn to the tale of Maggie, a local girl accused of witchcraft centuries earlier. A girl whose story has terrifying parallels to Anna's own…
My Thoughts: I need everyone to read this book asap! This is the first book I've ever read by Laura Bates and I'm so glad it was The Burning that I picked up. This novel was a huge eye opener in regards to sexism, the power of social media and revenge porn. Bates did such an incredible job of making you feel every kind of emotion with the main one being anger. I was so angry for the way Anna's peers treated her and automatically turned against her once everything was revealed. The topic of this story is a very real thing that is happening to someone right now and knowing that these people are out there and find joy in destroying someone in such a vile way makes me so angry. I just wanted to take Anna and give her a massive hug. I adored Anna's mum and you could just feel how much she wanted to protect her daughter. I thoroughly enjoyed this book and I honestly couldn't recommend this book enough. It's so so powerful and I found the ending to be extremely empowering, especially to so many young women/people.
---
So there we have a few mini reviews. I know they're not great but I just wanted to write a bit about how I felt about the books and some of the parts I enjoyed! Have you read any of these books? If so, what were your thoughts?
Remember you can also follow me on Instagram and Twitter.
Have a good few days, stay fab and I'll speak to you all soon.