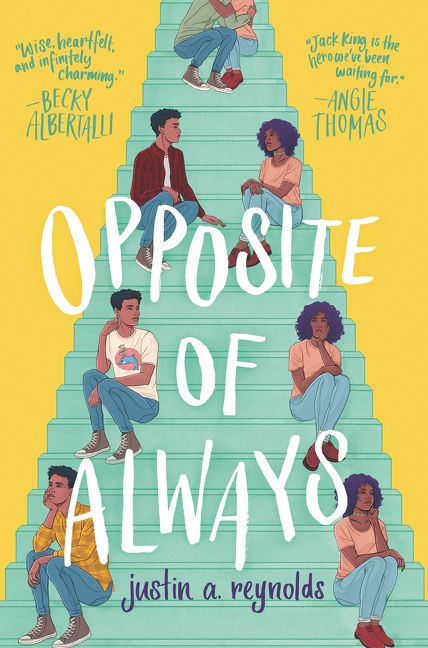 Title: Opposite Of Always
Author: Justin A. Reynolds
Source: eBook ARC from publisher
Publisher: Pan Macmillan
Publication Date: 4th April 2019
Rating: ⭐ ⭐ ⭐ ⭐ ⭐
Summary
Jack Ellison King. King of Almost.
He almost made valedictorian.
He almost made varsity.
He almost got the girl . . .
When Jack and Kate meet at a party, bonding until sunrise over their mutual love of Froot Loops and their favorite flicks, Jack knows he's falling—hard. Soon she's meeting his best friends, Jillian and Franny, and Kate wins them over as easily as she did Jack. Jack's curse of almost is finally over.
But this love story is . . . complicated. It is an almost happily ever after. Because Kate dies. And their story should end there. Yet Kate's death sends Jack back to the beginning, the moment they first meet, and Kate's there again. Beautiful, radiant Kate. Healthy, happy, and charming as ever. Jack isn't sure if he's losing his mind. Still, if he has a chance to prevent Kate's death, he'll take it. Even if that means believing in time travel. However, Jack will learn that his actions are not without consequences. And when one choice turns deadly for someone else close to him, he has to figure out what he's willing to do—and let go—to save the people he loves.
Purchase: Amazon, Book Depository
Review
Disclaimer: I received a copy of this book from the publisher and Netgalley in exchange for an honest review.
When I first seen this book on Netgalley, I was drawn in by the cover and then I read the synopsis and was instantly hooked in finding out the story this novel held. Now usually I'm not the biggest fan of stories were the main character just instantly falls in love at first sight but the way Reynold's created this romance was just so sweet and special and I loved it straight away. I've read a couple of books with time travel as a theme in it however, it didn't involve the character having to repeat the same day over and over again and I must say, I enjoyed it taking a different turn to what I was used to and it also made me extremely intrigued to see how the author would handle it without repeating the same thing constantly.
The beginning of this book actually starts at the end of the story so right from the get-go you're wanting to find out how we got to where we are. From here we're then taken to the beginning of Jack and Kate's story. Everything about their first meet is just dorky, cute and made me all warm and fuzzy when I read it. Watching their friendship and relationship grow was such a lovely thing to experience and then all of a sudden, all that happiness is ripped from us as Kate then dies. We're then taken back to the first night they met and we see things grow again however this time, we follow Jack as he tries to figure out a way to save Kate. The plot overall was well thought out and Reynold's did a great job in making sure he wasn't repeating events over and over again. Each time something happened, he made you want to continue on to find out what was going to go wrong that time – whether it be with Jack's parents or his friendship with Franny & Jillian – and also to explore the other ways that Jack and Kate's relationship grows.
Characters in this book were just so likeable and great. Franny was probably my favourite because no matter what hit him, he always tried to stay positive and was extremely forgiving for certain things (more than I would've been anyway). His whole backstory was heartbreaking and I just wanted everything to go right for him for once. Jillian was another lovable character and at times I felt sorry for her because she was always stuck in the middle of any arguments both Franny and Jack had which wasn't really fair on her. Kate was such an outgoing, positive and extremely uplifting character. No matter what she was going through, she remained positive and just enjoyed herself and made sure she was always having fun! Lastly, we come to the main character Jack. I really did like him as a character and seeing him grow throughout the novel was inspiring. Each time he went back in time he seemed to become so selfless and each time he was always worried more about how his actions would affect everyone else rather than himself.
I thoroughly enjoyed this book and think that Justin Reynolds has done such a fantastic job on his debut novel. It was just a really unique take on time travel (for me anyway) and I just loved everything about it. I highly recommend this if you're a fan of all things YA/contemporary! I look forward to seeing what else Justin has up his sleeve for future releases.
Thank you again to Netgalley and Pan Macmillan for providing me with a review copy of this book.