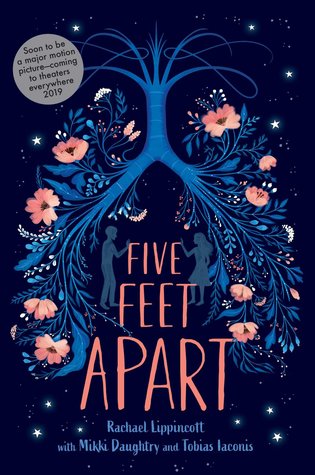 Title: Five Feet Apart
Author: Rachael Lippincott
Genre: Teen/YA
Format: eBook
Rating: 5/5
Synopsis: Goodreads
Buy Book: Amazon
Review: First off, I'd just like to thank both Simon & Schuster and Netgalley for providing me an e-copy of this book in exchange of an honest review.
Stella Grant has spent the majority of her life in hospital due to Cystic Fibrosis. However, this time it's different. This time, she meets Will Newman. As both characters get to know each other, the more they fall for each other and the more the safety of staying six feet apart feels like far too much.
I absolutely adored this book. For me there aren't many faults I can pick out. The pacing was perfect, the characters lovable and it was uplifting seeing how positive the characters were despite their future being completely undetermined. One of the main things that bothered me was the character Abby. Not the character herself, but the way her story was handled. Abby was mentioned a few times at the beginning and then it may have just been me but after that I completely forgot about her. Around maybe halfway through the book, Abby appears again and the twist with her didn't affect me as much as it probably should've which made me sad because I really didn't see it coming at all! I just wasn't completely invested in her to be shocked.
Going into my favourite characters, I absolutely adored Poe and I'm honestly so sad he wasn't a bigger part of the story. He was funny and with the fact he was Stella's best friend and they had been attending the same hospital constantly for years I just felt he deserved so much more time in the story. I also loved Will. Despite him being your generic YA love interest, he was just such a great character. I loved watching him slowly become more positive about his condition thanks to Stella. He went into hospital not really giving a hoohaa, avoiding his meds and just being a complete asshole about the whole situation but upon learning about Stella and the reason she continues to fight so hard he did his best to make that effort. He took his meds, he followed all routines and at one point even tried to avoid Stella in the hopes it would save her and give her a longer life.
The relationships between all the characters is just so lovely to see. The nurses in the hospital have known Stella for years and it definitely shows in the way they care for her but also in the way they joke and laugh with her. Stella herself is a great character. She's in no way selfish and always worries about everyone else before herself. After the other book I've just finished reading, this was so well needed and extremely refreshing. I need more Stella in my life.
'Five Feet Apart' is such a beautiful, heart-warming story about friendship, love and pushing boundaries. If you're a fan of John Green's "The Fault In Our Stars" and Nicola Yoon's "Everything, Everything" then I really do highly recommend this book to you. I promise you will not be disappointed.
Thank you again to Netgalley and Simon & Schuster for providing me an eBook copy for review.