Hey guys! I feel like all my posts have been starting the same way the last few times however, starting from today each Wednesday I will be taking part in the WWW Wednesday meme. That way at least I know there will be weekly content being posted and I'm also going to try getting back into reviewing again too.
So, to get started; WWW Wednesday is a meme led by Sam over at Taking On A World Of Words. All you have to do to take part is answer three (3) questions!
What are you currently reading?
What did you recently finish reading?
What do you think you'll read next?
---
WHAT ARE YOU CURRENTLY READING?
At the moment I'm currently reading The Girl In Between by Laekan Zea Kemp. The Girl In Between follows Bryn, a teenage girl who suffers from Klein-Levin Syndrome (KLS) which means that she suffers episodes of prolonged sleep that can last anywhere from a few weeks to months. Whilst in these states of sleep, Bryn lives in an alternate reality where she lives her past until one day a mysterious boy shows up. You can find the full synopsis here.
I'm not 100% sure on how I feel about it yet. I mean I'm halfway through it already but that's just because I need to find out if Bryn finds out who the boy is and to also find out why he has suddenly appeared (I highly doubt it because there's 4 books in the series). I'm not fully engrossed in it as much as I want to be and I am struggling to pick it back up again once I've put it down but like I just said, I need to know what is going to happen so I'm going to keep going and see how this one ends before deciding if I want to read the rest of the books or not.
I'm also listening to Tess Of The D'Urberville's on audiobook. This book has been one of my favourite books for about 6 years now and I just absolutely adore it after studying it at school. Tess Of The D'Urbervilles is such a heartbreaking story and I wouldn't even be able to write a short synopsis without spoiling anything so to see what the book is about then you can go here. This book is one I can read over and over again and no matter how many times I read it, I still feel the same amount of anger, sadness and heartbreak for everything that Tess is put through. I highly recommend this book to everyone!
---
WHAT DID YOU RECENTLY FINISH READING?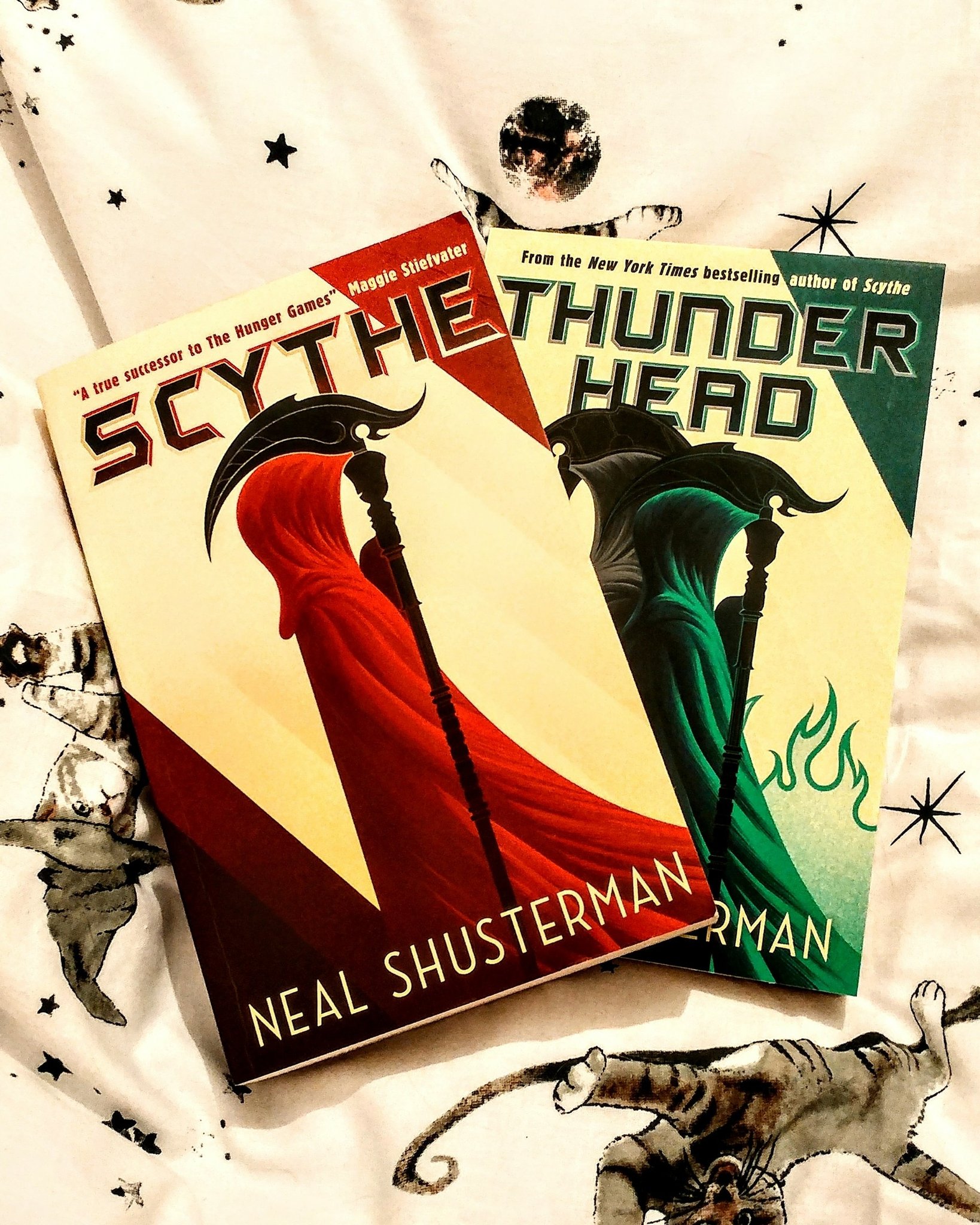 I've just recently finished reading the first two books in the Arc Of A Scythe Series and I am completely obsessed! Scythe starts us off by introducing Citra and Rowan to us, two teens who live in a world where death by natural causes has been completely eradicated and you can now only die at the hands of a Scythe. Citra and Rowan are chosen by Scythe Faraday as apprentices and so begins their journey on learning the art of killing as well as understanding why Scythes have to do what they do. Only one of the characters can become a scythe and they both then find out that whoever wins the ring must glean the other.
Thunderhead pretty much starts off where Scythe finished. Again we follow Citra, Rowan and a few more familiar Scythes as conflict within the Scythedom is growing day by day. With one of their lives in danger, it all becomes clear that there is a master plan in the works to ruin everything as it is. As the Thunderhead observes what is going on, will it decide to intervene and help save what is wrong? Or will it standby and watch the world fall apart?
I absolutely adored these two book and I'm so excited for book 3 to be announced. With the way Thunderhead ended, I don't think I can wait too long because the ending was HUGE!! The plot was just so different to a lot of YA Sci-Fi I've read recently and it was just really interesting to see Shusterman's take on the future. I found the characters to be extremely strong and there was a lot of character development too which was great. I loved the range of characters included in the story. There was the few I loved and then the few that I despised and wanted to see the end of.
If you're into Sci-Fi/YA, then I highly recommend this series to you!
---
WHAT DO YOU THINK YOU'LL READ NEXT?
In October's Fairyloot box, we received a gorgeous edition of Girls Of Paper And Fire  by Natasha Ngan and for the first time ever they're doing a read-along of it tomorrow so I'm looking forward to starting that and experiencing it along with everyone else! I've heard so many good things about this book and it's made me even more excited to start reading it too!
Other than that, I haven't really planned what else I'm going to read. I'll need to wait until I've unpacked all my books after moving and go from there. There's so many Fairyloot books I haven't read yet so I might even make a start on them and I'm also hoping to plan my TBR for Book Roasts Magical Readathon that is happening in December! If you want more information on how you can take part in that too then head over to her YouTube channel or just click here and it'll take you straight to her announcement video!
---
If you guys have done a WWW Wednesday post then please link it below so I can check it out and I'll see you all again soon.
Be fab and have a good week ahead!