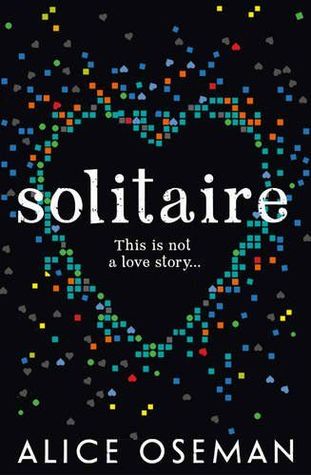 Title: Solitaire
Author: Alice Oseman
Genre: Young Adult
Format: Paperback
Rating: 5/5
Synopsis: Goodreads
Buy Book: Amazon
Review: Alice Oseman is an author I've been hearing about for quite a while now and I've been putting off reading Solitaire, since its release in 2014. I honestly don't quite know why but when I came across the Heartstopper comic a few days ago and was introduced to Nick and Charlie then I felt like it was a sign I should start this book and boy, I was not a single bit disappointed!
Solitaire tells the story of Tori Spring, a teenage blogger, pessimist and in her last year of high school. When mysterious blog "SOLITAIRE" appears, random pranks start happening in Tori's school. Reuniting old friends and meeting new ones, Tori's life takes an unexpected turn and now she has to learn to cope with a whole bunch of new feelings.
Well, where do I start with this review? First of all, I don't think I've ever came across a more relatable character than Tori. There was a lot of myself that I could see in her and this is one of the things I loved about Alice Oseman's writing, in each one of her characters, I could see small parts of myself in them.
Tori is bit of an introvert, she doesn't really get involved with anything, doesn't really talk much and usually keeps herself to herself (never related to someone more) and then Michael Holden comes along and eventually changes things. The relationship between both Tori and Michael was one I really enjoyed following because watching them grow as friends was just nice and you could see how much they both related to each other and in a way needed each other.
I honestly loved Michael's character as well. He was sweet, caring, funny and also another troubled character but he hid it from everyone else because all he wanted was for everyone else to be happy.
As I said at the start of this review, I started reading Solitaire because I came across the Heartstopper comic on tumblr and was introduced to Nick and Charlie. These are two characters I would've loved to see more of in the book and the fact they have their own comic series makes me happy!
In all, Solitaire was a strong, well written and fantastic debut novel from Alice Oseman and I honestly can't put into words how much I enjoyed this story. I'm just sorry it took me so long to finally get round to reading it but I'm so glad I have now and I'll be recommending it to everyone!
If you're a fan of young adult, contemporary and a little bit of mystery then I fully recommend you give this a go, you will not be disappointed!