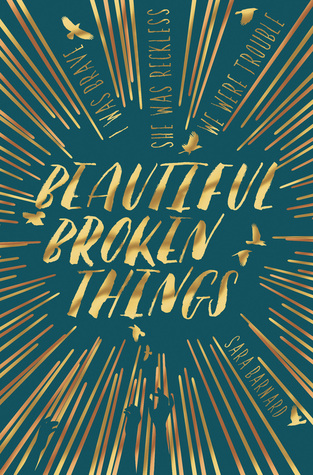 Title: Beautiful Broken Things
Author: Sara Barnard
Genre: Young Adult, Mental Health, Realistic Fiction
Format: Paperback
Rating: 5/5
Synopsis: Goodreads
Buy Book: Amazon
Review: This book captures female friendships absolutely perfectly. You have the confident, outgoing one, the sensible one and finally the quiet, shy one. Now I know not all friendships have someone that fits these descriptions but for me and my friends, we did (I'm the quiet, shy one unfortunately).
I honestly can't describe how much I loved this book. With what I had heard about it, I knew I was going to enjoy it but I just didn't realise how much I actually would fall in love with the story and characters. Sara Barnard did such a fantastic job of creating such a realistic story about three teenage girls who struggle with new relationships and the strain it can have on lifelong friendships. One of the reasons I loved this book so much is because there was no cliché romances that you'd normally expect in a YA novel and it made me happy because I'm starting to get tired of reading the same kind of thing over and over again. Caddy was such a relatable character for me and I seen so much of myself in her. Although she was unsure about Suzanne at first she soon became the one Suzanne would turn to when she needed someone and when things were getting tough which is similar to something that's happened to me in the past. At first I was unsure about Suzanne because like Caddy, I didn't want the relationship between Rosie and Caddy to change but like any friendship you have, it does change as you grow up and meet new people plus the more we got to know Suzanne the more I got to love her and sometimes I could see part of myself in her too.
I loved how realistic this book was, especially when dealing with Mental Health. Suzanne comes from a troubled background and I felt that Miss Barnard did an amazing job of showing how a mental health illness can affect not only the person suffering but the people around them who love and care for them which is not often shown in a lot of YA books that do focus on Mental Health. As someone who suffers from mental health issues myself, it made me realise just what I put my friends and family through when I was at my lowest point and I know now that any time I feel like that again, I can think of this book and know that there is always a light at the end of the tunnel and I'll always have people around me who love me.
'Beautiful Broken Things' is such a heartbreaking but stunning story about the complications and struggles all friendships go through. It will stay in my heart for a long time and I'm so glad I had the chance to read it. If you get the chance then PLEASE get this book whether it be from a library or you buy it because I can promise you won't regret it.
After buying this book, I came home to find a copy waiting for me that I had surprisingly won so thank you to Maximum Pop for sending me a copy to review!