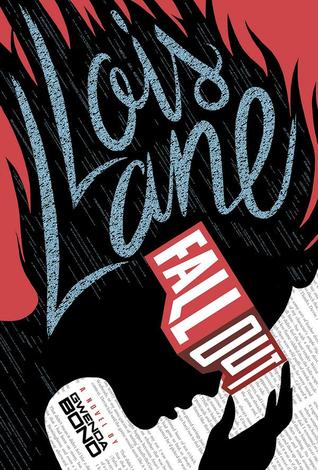 Title: Fallout (Lois Lane #1) 
Author: Gwenda Bond
Genre: Sci-fi, Young Adult, Mystery
Format: Hardback
Rating: 2/5
Synopsis: Goodreads
Buy Book: Amazon
Review: I first came across this book when Maximum Pop tweeted a giveaway for it and after reading what people were saying about it I decided to enter because well why not plus the cover was exciting! When I found out I was one of the lucky winners picked to review it I was so excited because I had heard so many good things about it. Unfortunately, it wasn't what I hoped for and I was slightly disappointed. I couldn't get into the story at all and for the majority of it I was bored.
In 'Fallout' we're introduced to Lois Lane, the daughter of an Army General as her and her family settle for good (hopefully) in Metropolis. On her first day of school she is introduced to a strangely connected group called the Warheads who are making life miserable for young Anavi. Lois then decides to find out more information about the Warheads and see if there's a way she can stop them all whilst trying to make new friends. Although I wasn't really into the story, I did really like Lois' character. She was funny, witty and strong-minded. I was kind of surprised by her forwardness at the beginning of the book when she butts into a conversation the head teacher is having with a fellow student. As the story starts to unfold we also see how smart and sneaky she can be.
As for the story, I can't quite put my finger on it but I just couldn't get into it at all. There were times I thought I would start enjoying it but then it would just go back to how it was and I would get bored again. I didn't quite understand the game in the book either which is a huge part of the plot so that's probably the main reason I never understood it.
With the question rising of "would you read another book by Gwenda Bond?" I think I probably would as I don't want the one book I've read to ruin her other books which may be better!
If you're into gaming and mystery books then this is probably the book for you. Thank you again to Maximum Pop books for sending me a copy to review!