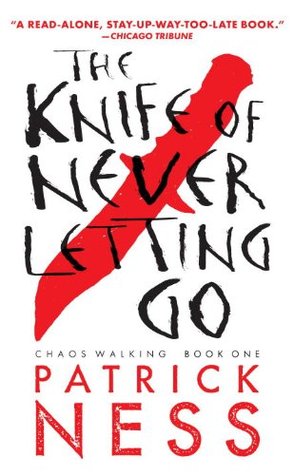 Title: The Knife Of Never Letting Go (Chaos Walking #1)
Author: Patrick Ness
Genre: Young Adult, Sci-Fi
Format: Paperback
Rating: 4.5/5
Synopsis: Goodreads
Buy Book: The Book People (you can buy the trilogy here for only £6.99!)
Review: I hate this book. It broke my heart and destroyed me in every way possible. BUT IT WAS SO GOOD. I genuinely have a love/hate relationship with this book. Everything about it was excellent! (Apart from the part my heart was broken).
There's so much I could say about this book but I don't want to spoil anything! I've been meaning to read this book and series for a long time but never actually got round to it until the UKYA In The Rain book club chose it to be our read for this month so it was just the perfect time! This is the first Patrick Ness book I've read and it did not disappoint! (Apart from the part where he broke my heart. Did I mention that???)
The Knife Of Never Letting Go tells the story of a young Todd Hewitt, the last boy left to become a man in Prentisstown, a town full of men where not one person's thoughts are private. One month from becoming a man, Todd is forced to flee Prentisstown with the help of his talking dog and a strange girl he met at the swamp. Whilst on the run from the men pursuing him, Todd discovers that everything he has ever known was a lie and nothing everything is the what he thought. Ness gives us a story full of hope, fear, friendship and self-discovery in this gripping and heart-wrenching novel.
At the start of the book I found the language very frustrating and annoying and was so close to just putting it down but I started to get used to it and it helped make Todd the character he is. The character development in this book was brilliant. Especially with Viola, who started off as a shy, quiet little girl and by the end of it was one of the stronger characters in the story! At first I didn't like her because she never spoke and I just assumed she was being ignorant but it helped make the connection between both characters stronger and I feel it played a part in helping them understand each other more. The main reason I love this character is because in a world full of men who believe women should have no say, she sticks up for herself and soon becomes the only person who Todd can rely on and she's the person who helps him understand this new world when he struggles to cope with everything.
Todd became just as strong as Viola in the end. At the beginning he was extremely naive and as you find things out with him you begin to feel a lot of sympathy for the young boy as you find out his whole life has been a lie and each step of the way both him and Viola discover the truth about the world they both live in. About two thirds into the book there's one scene that your heart just completely breaks for him. With Todd comes his annoying, loving, talking dog Manchee. When we first meet Manchee I was automatically reminded of Dug from the movie 'Up.' Ness' characterisation of the dog was exactly what a dog would be like if they could actually talk which I loved! Like Todd, you feel a lot of sympathy for the dog as all he ever wants to do is help Todd and he tries his best to understand everything that's going on. There's a touching scene on page 333 of the book that has became my favourite as Todd, who at the start of the book disliked the dog starts to talk about Manchee in such a lovely way and it shows just how much he's grown to love and appreciate the dog who's always been there to help and protect him. The fact you can see how the relationship between dog and boy has grown made it much more poignant for me.
I honestly can't recommend this book enough and I would have given it 5 stars if it hadn't been for the fact it took me about 100 pages to actually get into it and also for the fact IT BROKE MY HEART IN THE WORST POSSIBLE WAY! But yeah, I do highly recommend you read this book! It's got just the right amount of action in it and the villians aren't your stereotypical, predictable villians. Ness did a phenomenal job of making you as the reader feel just as much hope as the characters felt in the book and that was another reason I loved this book so much. You were made to feel like you were there on the journey with the characters and at some points you were holding your breath hoping that Todd and Viola would overcome everything they faced. If you've yet to read any of Patrick Ness' work then I would say this series is a good place to start as it has just about everything in it!