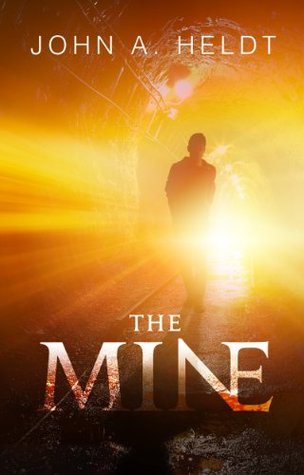 Title: The Mine
Author: John A. Heldt
Genre: History, Romance, Science Fiction, Time-Travel
Rating: 3.5/5
Synopsis: Goodreads
Buy Book: Amazon
Review: I didn't really know what to expect from this book but when I seen the description it sounded quite interesting and therefore helped me decide that I would give it a try.
'The Mine' tells the story of Joel Smith, a college-senior who whilst on a trip with his best friend wanders into an abandoned mine, bangs his head and somehow wakes up in May 1941. With nothing but his phone, money that he can't use, his wits and his amazing memory for history, we follow him as he tries to survive in this strange, old time. We see him make friends, fall in love and spend time with his grandmother as a young woman. When the opportunity arises for him to return to the year 2000 he has a tough decision to make. Does he stay with his new friends and alter the future or does he return home and let things work out?
I loved the characters in this book! Especially Tom. After Joel helped Tom in a time of need, Tom took Joel in off the street and gave him a place to stay whilst his father gave him a job. From then on, both young men became the best of friends and their friendship was just so lovely to see unfold. Tom's girlfriend, Ginny  (also Joel's grandmother) was another one of my favourite characters. She was funny, witty and cared about everyone she came into contact with.
Joel's relationship with Grace happened pretty fast. I loved both characters and Grace was so endearing, naive, sweet and innocent. It seemed that until Joel came along, she was always doing things that made other people happy rather than thinking about what made her happy. I really enjoyed reading about the progress of their relationship but the more it blossomed, the more I panicked about what was going to happen if Joel returned to the future.
The whole way through this story made me question what was going on in the future where Joel was from. Did his friend Adam, whom he left behind, go looking for him and find him gone? Did he hit his head that hard he had went into a coma? WHAT WAS HAPPENING IN THE YEAR 2000 WHILST HE WAS IN 1941??? I finally got my answer in the end which was actually quite disappointing and pretty much impossible. There was also a huge twist at the end which I would never have guessed! It made me cry like a baby but it was happy tears. It was a perfect ending, maybe just too perfect but I was still pretty happy with it.
When I first started reading this book I just couldn't get into it and was so close to putting it down but I'm glad I stuck at it because as soon as Tom and his gang of friends came into it everything started to get fun and interesting. I enjoyed reading about Joel's time in the 1940's but I think the ending was a good way to end the story rather than carry it on over a series which I feel would've been a decision a lot of people would've made. If you enjoy a bit of historical romance and time-travel then I do recommend this book to you!
I received an ecopy of this book in exchange of an honest review so I'd just like to take this moment to thank John A. Heldt for getting in touch with me and asking me to review this book for him. I thoroughly enjoyed it and hope to read more of his work in the future!